Discover our consumption-based pricing strategy, how we compute active Rivers, and how to manage and optimize your usage.
Overview
Rivery's usage-based pricing is based on pipeline executions rather than row count or compute hours. Enjoy easy, adaptable plans that scale as your company grows.
All plans contain an infinite number of data sources, destinations, transformations, and workflow orchestration tools.
Rivery Plans
Find out more about our various plans.
After you've decided on the best plan for you, you can always modify it by following the steps below:
In the bottom left corner, click on Settings.


Choose Plans & Billing.

Note:
Only Admin users have access to the 'Subscription & Billing' interface.
Select Manage Your Plan.

All the elements for managing your plan can be found here: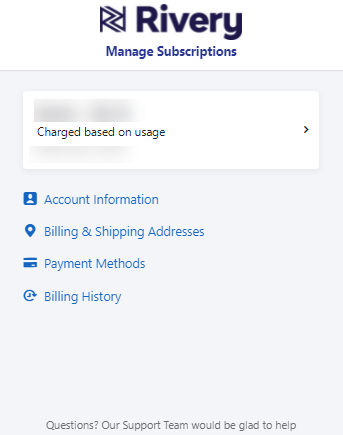 Plan Upgrade
Trial Account
If you're new to Rivery and wish to upgrade from a trial account to one of our plans, start by following the 'Rivery Plans' 1-2 steps, then proceed to the following steps:
3. Click the 'Subscribe' button.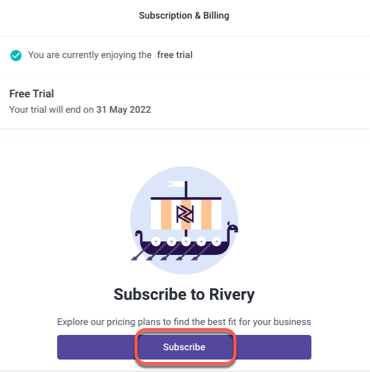 Choose your preferred plan and follow the on-screen instructions on the console.
Congratulations, you have successfully subscribed to Rivery. Please click close to begin creating, managing, and monitoring your data pipelines.
From the Starter plan to the Professional plan
if you're subscribed to the "On Demand" Starter plan and wish to upgrade to a Professional plan, start by following the 'Rivery Plans' 1-2 steps, then proceed to the the on-screen guidance: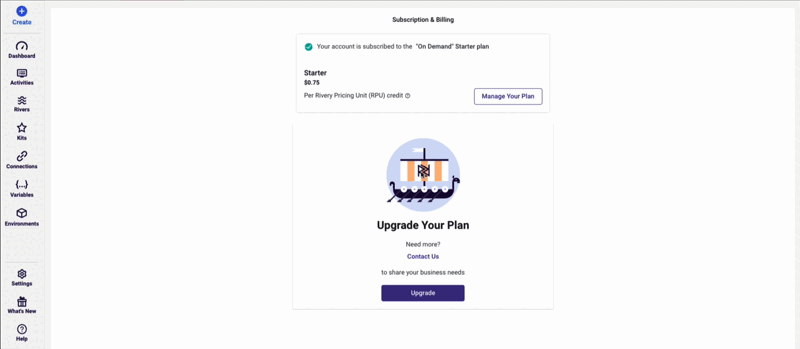 If you have any additional questions, please reach out to our sales team directly, we'd be more than happy to help.
---
Was this article helpful?
---
What's Next