Share feedback
Thanks for sharing your feedback!
What's New? 🚀
Features
The Onboarding Checklist - The new onboarding page provides a variety of resources, including step-by-step guides, tutorials, and interactive materials, aimed at assisting new users in getting acquainted with the platform. It serves as an orientation tool, enabling users to quickly grasp the essential features. Once users have familiarized themselves, they can then proceed to the Leveling Up section below to tackle more advanced tasks.

Home Page - From now on, upon logging in, you will be directed to our redesigned home screen instead of the previous dashboard. The home screen showcases recently modified Rivers and provides convenient links for quick River creation.

Resource Center - To explore our new help center, simply click on "Help" located in our sidebar. Here, you can access demo videos, search through Rivery documentation, and quickly find solutions to common issues.
---
Sources Updates
PostgreSQL:

It is now possible to establish a secure SSL connection to a PostgreSQL database hosted on Google Cloud SQL.
Replication Slots and Publications - Creating Replication and Publication slots has never been easier. This allows for efficient data replication between databases, ensuring availability, recovery, and distribution. The publication slots effectively manage and regulate the transfer of changes between the master and replica databases.

Google Analytics:

We have introduced an update to Google Analytics 4, which includes the incorporation of the following features:

Custom Dimensions and Metrics
Functions for retrieving Dimensions and Metrics
Compatibility mapping for Properties.



Account Properties field has been added to the Sub Rivers option.

We have recently added the ability to perform a bulk update of properties/accounts within Google Analytics Sub Rivers.
The user simply needs to prepare a comma-separated list of account numbers, which will be automatically separated when pasted into the properties window. For example, if there are three different account properties numbered 1 to 3, providing a list like "1,2,3" will separate them accordingly.

Pipdrive's Activities Report and Hibob's Out Of Office Report - We have a new UI feature tailored for the Pipdrive's Activities report and Hibob's Out Of Office report. Users now have the ability to set up automated prediction flows for future dates on a daily basis. This feature eliminates the restriction of using only the current date as the maximum run date, giving users greater flexibility in their forecasting capabilities.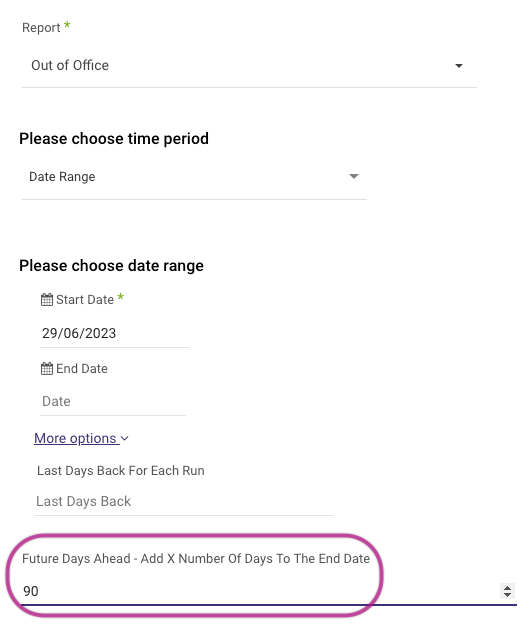 Display & Video 360 - has been modified to align the Lineitems and SDF entities with the most recent API modifications, which now incorporate additional filter options such as filtering by Partners and Advertisers.

Cellxpert - has a new report called Media.

Pinterest - is now updated to Version 5.
The upgrade includes modifications to the authentication procedure. With the introduction of the new Pinterest API V5, a distinct authorization flow is necessary, rendering previous authentication tokens invalid after the V4 deprecation date. As of June 28, 2023, clients are required to re-authenticate by modifying their existing Pinterest connections.

LinkedIn Ads has in now upgraded to version 202305.

The Union Tables River Mode has been removed from the UI of all database Sources. This decision was taken due to its close association with the Legacy River process.
---
Kits ⭐
The Capterra kits use the Gartner Click API to retrieve Capterra data. These kits enable convenient access to Capterra's information and facilitate the smooth integration of that data into your data warehouses. By leveraging the Gartner Click API, the kits simplify the retrieval of Capterra data and its seamless integration into your current data infrastructures, including:

The Calendly kits leverage the functionality of the Calendly API to establish a connection, retrieve and display a comprehensive list of events associated with a particular organization, as well as retrieve information about all users. Furthermore, it enables you to conveniently load this data into your data warehouses, including:

Comeet to Snowflake - The Comeet kit uses the Comeet REST API to fetch recruitment data from the Comeet platform. This includes information such as candidate profiles, job listings, and application statuses. By leveraging this kit, you can conveniently access and retrieve this data, allowing you to streamline your recruitment processes and gain valuable insights. Furthermore, the kit provides functionality to efficiently load this retrieved data into your data warehouse, facilitating seamless integration with your existing systems and enabling comprehensive analysis and reporting.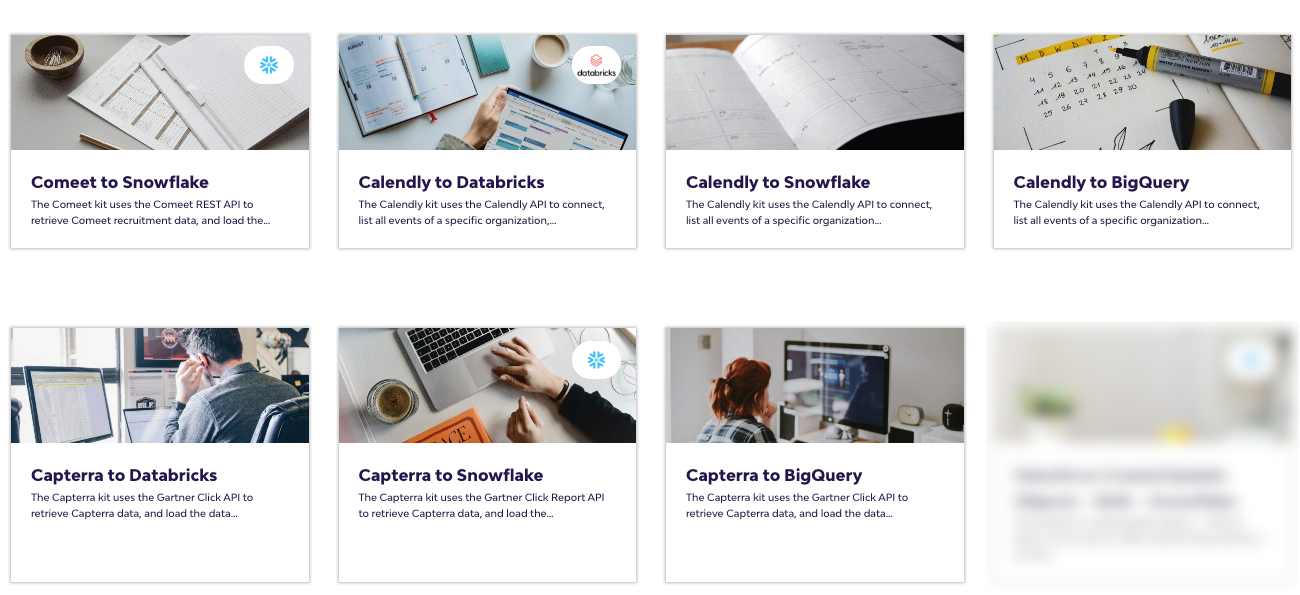 ---
Was this article helpful?
---
What's Next