Share feedback
Thanks for sharing your feedback!
What's New? 🚀
Features
Databricks now includes support for Unity Catalog. The inclusion of Unity Catalog significantly simplifies data management processes within Databricks. It provides a comprehensive solution for controlling and granting access to data and resources, making it easier for administrators to define user roles and enforce data security policies. By centralizing access control, Unity Catalog ensures consistent governance practices across multiple workspaces, helping organizations maintain compliance with regulations and internal data management standards.

Amazon S3 as a Target - We have expanded the capabilities of the Custom Partition feature to include a wider range of data sources:

Bluesnap
Delta projects
Hasoffers
Itunes reporter
Linkedin Ads
Outbrain
Verta media
---
Sources Updates
Oracle - now supports the inclusion of expressions within Source calculated columns.
One of the key features of Rivery is the ability to add calculated columns using expressions. This powerful functionality allows the user to customize their output table beyond the limits of the raw metadata extracted from the Source by including expressions, mathematical or string operations, or simple functions to enrich and tailor the output to their use-case.


HubSpot API Version 3 - HubSpot offers a feature that enables users to illustrate relationships between different objects by linking records of multiple objects through the "Add Associated Objects" field.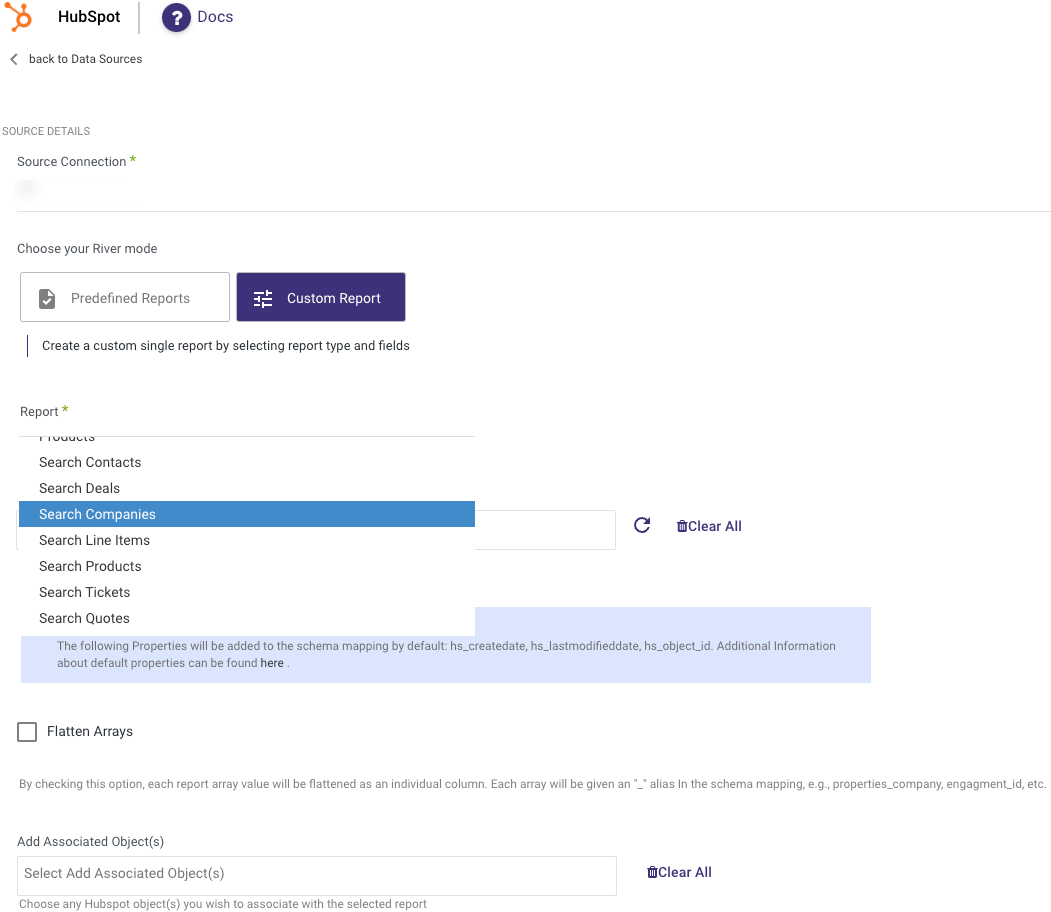 Freshservice - following their announcement, we've made updates to the connection, now exclusively offering the Token option. Furthermore, in response to the announcement, we have updated the attributes in the Agents report.

Google Ad Manager has been updated to v2023-02.

This update brings significant enhancements to the 'Create a new report' and 'Entity' modes. To learn more about the planned changes, please refer to our community page.
We now offer 2 extract methods - Incremental and All for the following Entities:

Company
Inventory
Order
Line Item Service.

Additionally, we have expanded our support by incorporating new sub-types of Creative entities, along with the expanded range of fields supported within these sub-types. You can easily access the details about these additions in the Google documentation.

Cellxpert Affiliate List report now incorporates 2 additional fields:

Groupid
Group_name
These enhancements will expand your reporting capabilities and provide you with a more holistic comprehension of your affiliate data.

Jira has received an update featuring a brand-new report named Issue Changelogs.


Innovid has undergone a version upgrade from V2 to V3.

Criteo Marketing - We have recently updated Criteo Marketing to the most recent version as of April 2023. Additionaly, the Statistics report now includes new dimensions.
---
Kits ⭐
Salesforce Create/Update Objects - Bulk - Snowflake - This Kit enables querying a table that represents Salesforce records in Snowflake, and then performing a "Reverse-ETL" process to create/update those records in a Salesforce account.

---
---
Was this article helpful?
---
What's Next