Share feedback
Thanks for sharing your feedback!
Let's Get Started
We're thrilled to have you join Rivery!
This page will guide you through the initial steps to ensure you have a smooth and successful start. Let's dive in!
Explore the Platform
Now that you have your Rivery account, log in to the platform using your credentials. Take a moment to familiarize yourself with the user interface and navigation.
Onboarding Page
The onboarding page offers a range of resources such as step-by-step guides, tutorials, and interactive materials, designed to help new users familiarize themselves with the platform. It functions as an orientation tool, allowing users to swiftly grasp the fundamental features. Following that, users can access the Leveling Up section below to handle more substantial tasks.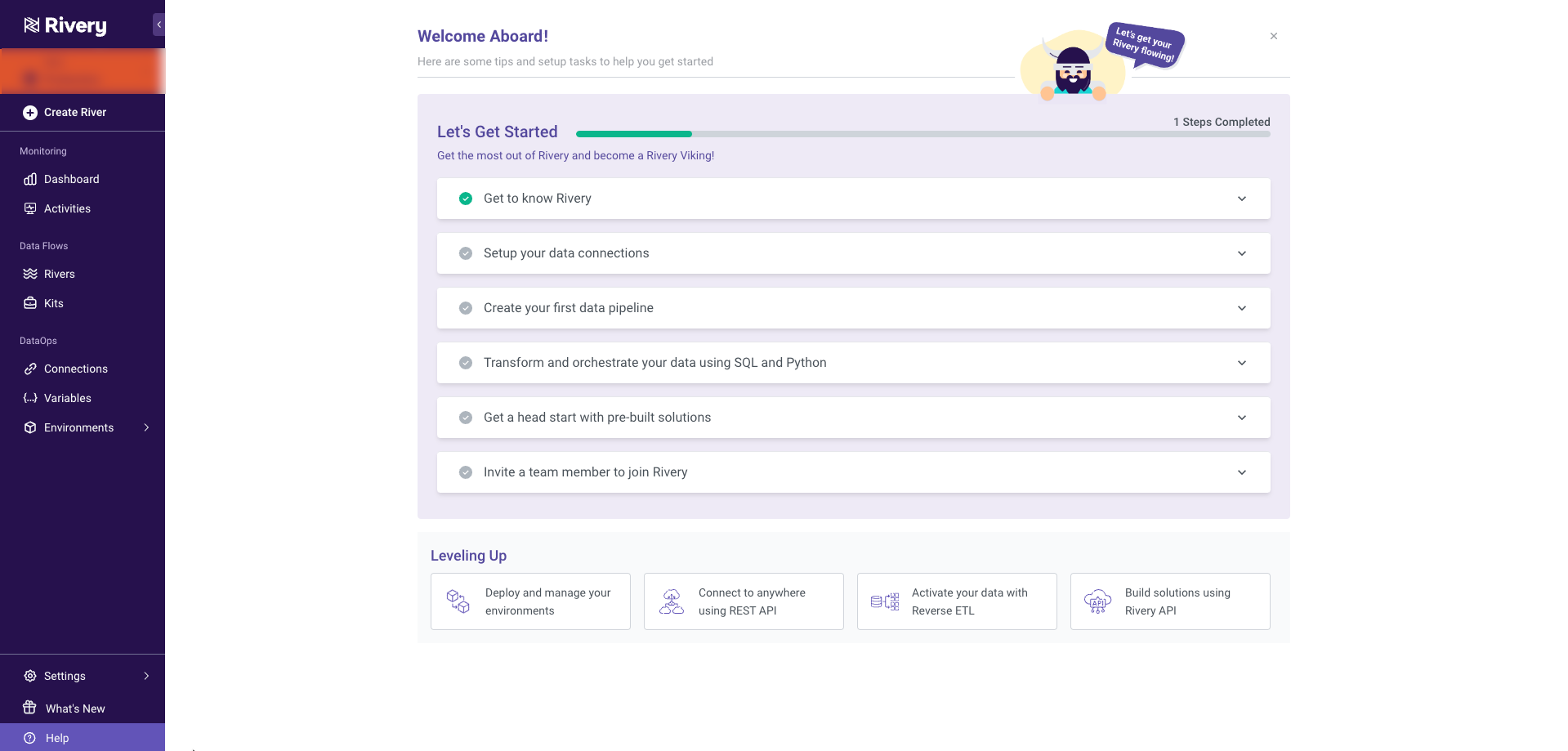 Home Page
The Home Page serves as the default landing page upon logging into the platform and offers the following features:
Display of Recently Modified Rivers
A list of recently modified Rivers is prominently displayed on the Home Page. This allows users to quickly identify and access the Rivers that have been recently worked on. By presenting a snapshot of recent activity, users can easily resume their work or review the latest changes.
Quick Links
The Home Page incorporates convenient quick links to streamline access to our documentation, system status, and support ticket submission. These easily accessible links empower users to initiate new projects or tasks without the hassle of navigating through numerous pages or menus.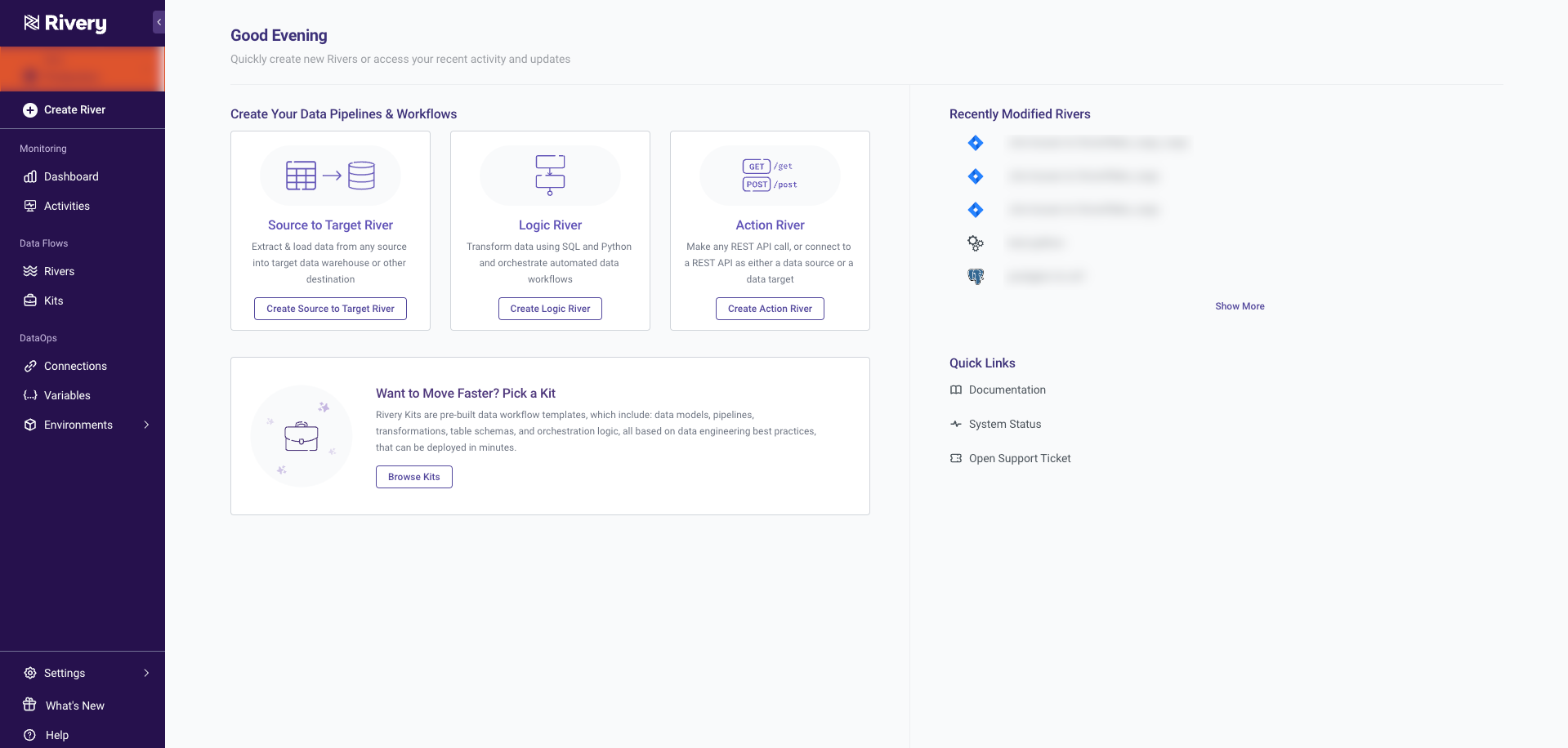 Help Center
The Help Center serves as a hub for users seeking guidance or support. To access the Help Center, users can click on the "Help" located in the platform's sidebar.
It provides a range of resources to assist users in understanding and using the platform effectively.
The Help Center includes:
Rivery Docs Search: The Help Center incorporates a search functionality, allowing users to search within the Rivery documentation. This feature enables users to quickly find specific information, such as guides, tutorials, and troubleshooting articles, to address their queries or issues.
Demo Videos: Users can access demonstration videos that showcase platform features, functionalities, and best practices. These videos serve as a visual aid for users to learn and navigate the platform.
Common Use Cases: The Help Center includes a dedicated section that specifically targets the typical use cases users encounter when using the platform. This section presents efficient solutions, approaches, and valuable tips to effectively resolve or mitigate any usability challenges that may arise.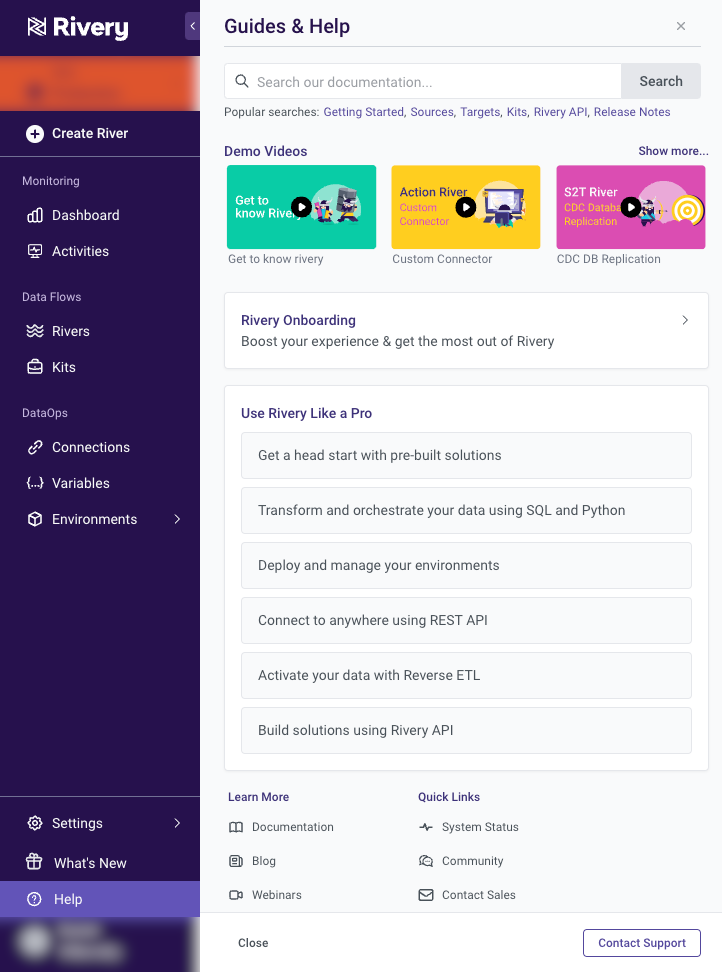 Congratulations on Completing the Onboarding!
You're now equipped with the knowledge and tools to leverage Rivery for your data integration needs. We're excited to have you on board and look forward to seeing the incredible things you accomplish with our platform. If you have any further questions or need assistance along the way, don't hesitate to reach out.
---
Was this article helpful?
---
What's Next