Overview
The Logic Step of 'SQL / Script' enables for in-database transformations to be performed using a query or a script (the SQL syntax to be used is that of your cloud data warehouse).
A SQL script is a collection of two or more SQL statements, as opposed to a SQL query, which is a single statement. The goal of a SQL script is to combine similar statements in order to accomplish a more complicated edition in the database.
Note:
The SQL script is not encrypted in any way. Please avoid using credentials in the script.
The SQL script runs according to user configurations. Users are responsible for any changes to the table, schema, or data that occur due to the script.
How it Works
To begin, select SQL / Script as the Logic Step type and the cloud database to which you want to connect.

In the Source section:
a. Select the Connection Name.
b. Enter your SQL script/query into the SQL field.
Note:
If you're using colons, make sure they're preceded by double backslashes, or else the River will fail.

Expand & Preview Results
To Expand & Preview Results click the diagonal arrows in the SQL field:


Results Tab
The Result tab displays the output of your SQL script/query.
Click Run to view the output:


Note:
When the output reaches the maximum of 500 rows, a notification appears.
Compiled SQL Tab
A compilation is the process of optimizing the query execution plan.
When variables are used in the query, the real value will be displayed in the compiled SQL tab.
'Compiled SQL' can only be used for SQL queries, not SQL scripts.
Here's an example: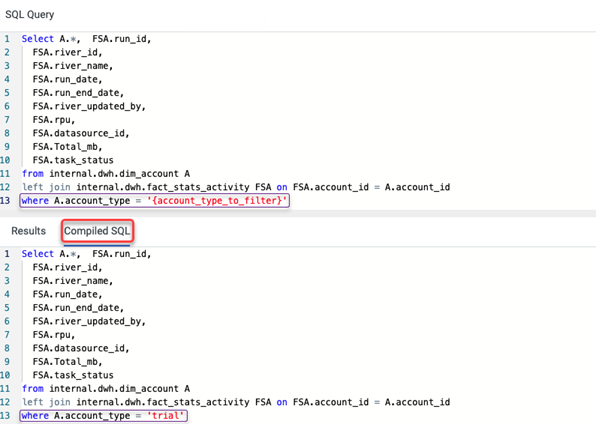 Move & Scroll
To make things easier, the preview window may be moved and scrolled:


Download SQL
The SQL query can be downloaded to your local computer.
Click on the arrow pointing down in the upper right corner:

---
Was this article helpful?
---
What's Next