Share feedback
Thanks for sharing your feedback!
Prerequisites
Adobe Ads connection. If you don't have one already, please set it using the Adobe Ads Connection document.
Adobe Ads Report Types
Rivery supports two types of reports from Adobe Ads:
Insights Report: pulls metrical data about Account/Campaigns/Placements/Ads scopes.
Entities Report: pulls the entity data of Account/Campaigns/Placements/Ads.
Report Scope
There are 4 report scopes (population) that are supported in Rivery:
Accounts

Campaigns

Placements

Ads
In each stage in that hierarchy, the user can filter the specific entity scope needed. Filtered accounts will affect the campaigns list, etc. However, you can choose a mix of entities to filter, that lay under one of the entities above it.
Please note that Ads scope can't be filtered. The Ads lists will come from the account/campaign/placements chosen above it.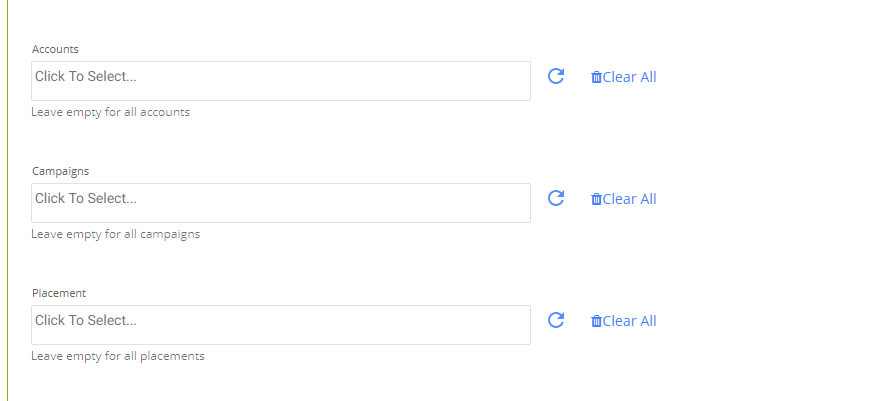 Data Timezone (Insights Report Only)
Adobe Ads source supports timezone converting of the data returned.
This means the metrics will be assumed to a day in that specific time zone.
As a default, the chosen time zone is GMT .
However, you may choose any other timezones from the list below:
Samoa Time (SST) (GMT-11:00)
Aleutian Time - AK (HAST/HADT) (GMT-10:00)
Hawaii Time (HAST) (GMT-10:00)
Alaska Time (AKST, AKDT) (GMT-9:00)
Pacific Time (PST, PDT) (GMT-8:00)
Mountain Time (MST, MDT) (GMT-7:00)
Central Time (CST, CDT) (GMT-6:00)
Eastern Time (EST, EDT) (GMT-5:00)
Atlantic Time (AST, ADT) (GMT-4:00)
Amazon Time (AMT) (GMT-4:00)
Uruguay Time (UYT) (GMT-3:00)
Brazil Ocean Islands (GMT-2:00)
Azores Time (AZOT, AZOST) (GMT-1:00)
Western European Time (WET, WEST) (GMT+0:00)
British Time (BST) (GMT+0:00)
GMT (GMT+00:00)
Central European Time (CET, CEST) (GMT+1:00)
Eastern European Time (EET, EEST) (GMT+3:00)
Arabia Time (AST) (GMT+3:00)
Eastern Europe Forward Time (EEFT) (GMT+2:00)
Azerbaijan Time (AZT, AZST) (GMT+4:00)
Moscow Time (MSK) (GMT+3:00)
Pakistan Time (PKT) (GMT+5:00)
Central Asia (GMT+6:00)
Indochina Time (ICT) (GMT+7:00)
China Time (CST) (GMT+8:00)
Singapore Time (SGT) (GMT+8:00)
Australian Western Standard Time (AWST) (GMT+8:00)
Korea Standard Time (KST) (GMT+9:00)
Japan Standard Time (JST) (GMT+9:00)
Asia Pacific Time (GMT+9:00)
Australian Eastern Time (AEST, AEDT) (GMT+10:00)
East Asia Time (GMT+10:00)
New Zealand Standard Time (NZST, NZDT) (GMT+12:00)
West Samoa Time (WST, WSST) (GMT+13:00)
Line Islands Time (LINT) (GMT+14:00)
Brasilia Time (BRST,BRT) (GMT-3:00)
Indian Standard Time (GMT+5:30)
South Africa Standard Time (GMT+2:00)
Extract Method (Entities Report Only)
Entities report is compatible with two extract methods:
All - Pulls all of the entities in the scope without considering their start and end times.

Entities Activation Dates - Pull the entities in the scope by filtering between specific activation dates (start_day and end_day).

For example, a user can pull only campaigns that

started after Jan 1st 2019 and ended before Feb 28th 2019
Time Period
All the reports support two kinds of the time period: (When "Is Lifetime Report" is not checked)
Date Range -
Pulls data in the date range between the start and end date provided, including the end date.

You must select a start date.

Leaving the end date empty will pull data according to the current time of the river's run.

Select a timezone offset to send dates considering the offset.

Use the "Last Days Back For Each Run" to expend the start date and pull data a given amount of days back before the chosen start date.

In the example above, the river will run with the date range between "17/06/2019" until the moment it was executed.

Predefined date - A date range defined by Rivery:

Day - Yesterday.
Week (From Monday to Sunday) - Week to date, Previous week, Previous week to date.
Month - Month to date, Previous month, Previous month to date.
Year - Year to date.

Interval Chunks - Rivery can run over the increment using chunks, in order to make the loading more efficient and more precise.

The available chunk options are:
Don't Split - Rivery will pull the data from the chosen start date to the end date in one bulk.

Daily - The run will be chunked daily from the start to end date.

Monthly - The run will be chunked monthly from the start to end date.

Yearly (Less Recommended) - The run will be chunked yearly from the start to end date.
---
Was this article helpful?
---
What's Next