Appstore Connect - Sales Walkthrough
Appstore Connect - Sales Walkthrough
---
Share feedback
Thanks for sharing your feedback!
Prerequisites
Appstore Connect - Sales And Trends Connection
Reports
The App Store Connect sales and Trends reports provide data about the performance of your App Store apps and in-app purchases.
The reports are divided into the following categories -
Sale report -
The Sales Summary report will provide your daily units, proceeds, and sales with content type, app, subscription, and territory.

Subscription reports -
The Subscription reports (Subscription Summary, Subscription Events Summary, Subscriber Detailed ) have sales and activity of your auto-renewable subscriptions.
Accounts
Choose the Account you wish to extract their data (leave empty for all available accounts).
Vendors
Choose the Vendors you wish to extract their data (leave empty for all available Vendors).
Time Granularity
The result's time granularity. Each row in the results will contain the start date and end date according to the chosen time granularity.
Time Granularity Limitation
The Subscription Summary, Subscription Events Summary, and the Subscriber Detailed report can be pulled by a daily time granularity only.
Time Period
The App Store Connect Sales and Trends reports are time-dependent reports. In order to configure a custom report, you will need to define the time period you wish to fetche data from.
Time-dependent reports support two kinds of time-period:
Date Range -

Pulls data in the date range between the start and end date provided, including the end date.
You must select a start date.
Leaving the end date empty will pull data according to the current time of the river's run.
Select a timezone offset to send dates considering the offset.
Use the "Last Days Back For Each Run" to expend the start date and pull data a given number of days back before the chosen start date.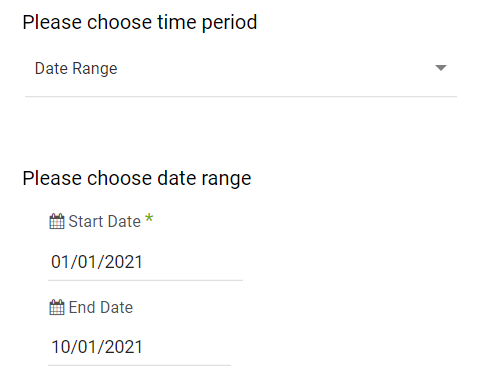 In the example above the river will run with a date range between "01/01/2021" and "10/01/2021".
Predefined date - A date range defined by Rivery:

Day - Yesterday.
Week (From Monday to Sunday) - Week to date, Previous week, Previous week to date.
Month - Month to date, Previous month, Previous month to date.
Year - Year to date.
Historical Data Limitation
App Store Connect retains daily reports for 365 days, weekly reports for 52 weeks, monthly reports for 12 months, and yearly reports indefinitely.
---
Was this article helpful?
---
What's Next