Share feedback
Thanks for sharing your feedback!
Follow this guide to ingest data from Bronto into your data target.
Prerequisites
Data Ingestion Steps
Create a Data Source to Target river and select Bronto as the Source.
From the connection dropdown, select the Bronto connection.
Select a desired report in the 'Report' input:

(The reports align to the Bronto SOAP API Read Functions).
Select specific IDs or leave the window empty to pull all IDs.


Select specific statuses or leave the window empty to pull all statuses.


For some reports, additional parameters are available to include. Enable the toggles to add the extra datasets to the data output.

For example, see the optional parameters for the ReadContacts function.
Each report may have any of the above filter options.
Set the Time Period
Select the "Incremental" extract method to filter the report for specific periods or dates.
Incremental fields - choose either "Created" or "Modified" date.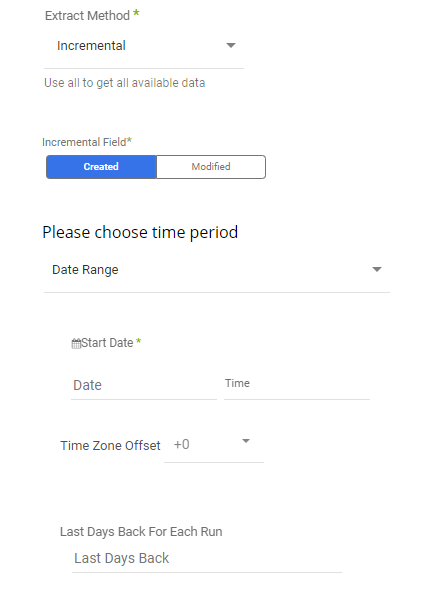 Select the time period of the report:
All the reports support two kinds of the time period:
Date Range

Pulls data in the date range between the start and end date provided, including the end date.
You must select a start date.
Leaving the end date empty will pull data up to the current time of the river's run.
Select a timezone offset to send dates considering the offset.
Use the "Last Days Back For Each Run" to expand the start date and pull data a given number of days back before the chosen start date.
---
Was this article helpful?
---
What's Next