Share feedback
Thanks for sharing your feedback!
Prerequisite
Working Keepcon connection, If you don't have a connection yet please follow the steps detailed here
Keepcon reports
Rivery supports the content report for Keepcon.
The Content report extracts content published in a social network like Twitter, Facebook, Instagram, etc. Content has the text, information about the author, and other attributes like date created, sentiment, and classification.
There are 3 possible filters for the content report: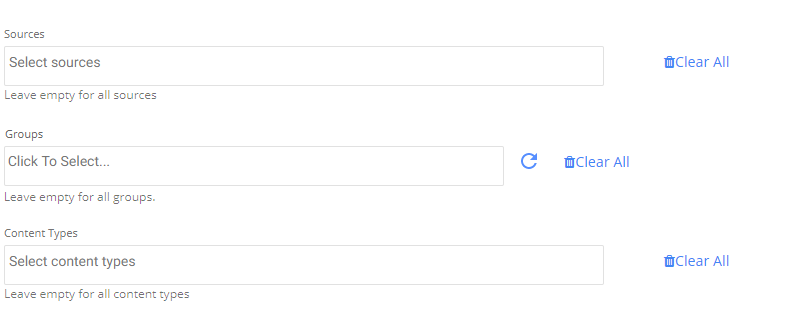 Sources: The social platform e.g. Facebook, Twitter
Groups: User defined groups
Content types: Sub section for a source. For example, if the chosen source is Facebook you can add an additional filter of FB-Posts or FB-Comments
Time period -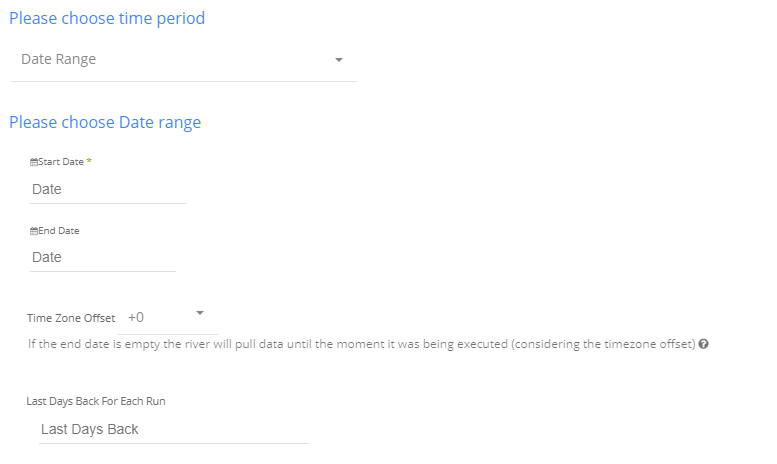 Select the type of time period of the report.
It can be a custom date range (as described in the picture above) or a defined time period shown in the pop up list (for example Yesterday, last week etc.)
Instructions if selecting 'Date Range':
1. Select the start date and end date.
2. Leave the end date empty in order to pull data until the moment the river runs.
3. After each run of the river, the start date will be updated automatically with the end date, and the end date will be updated with the empty value. This enables the next run to pull data from the end of the previous run.
4. Select the time zone offset. It will be relevant only if the end date is empty in order to find the moment of the river's run according to the time zone.
5. Days back - use this input to tell Rivery to pull data from a given number of days back before the given start date.
2. Instructions if selecting any other value: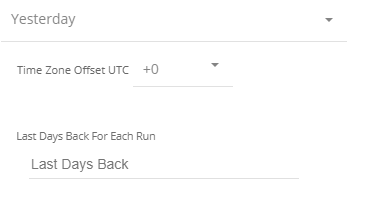 3. Select the timezone offset in order to send the correct dates that consider that offset.
---
Was this article helpful?
---
What's Next