This guide will walk you through the steps for pulling Kochava data in Rivery.
Reports
Detail
(Optional) Select the applications to pull from or leave empty to retrieve data from all applications

Select the event traffic type

Select the time zone and date range*
The time zone pick list is a predefined list of time zones.
You will find two timezone columns in the data. One will be in UTC and the other will be "adjusted" according to the timezone chosen.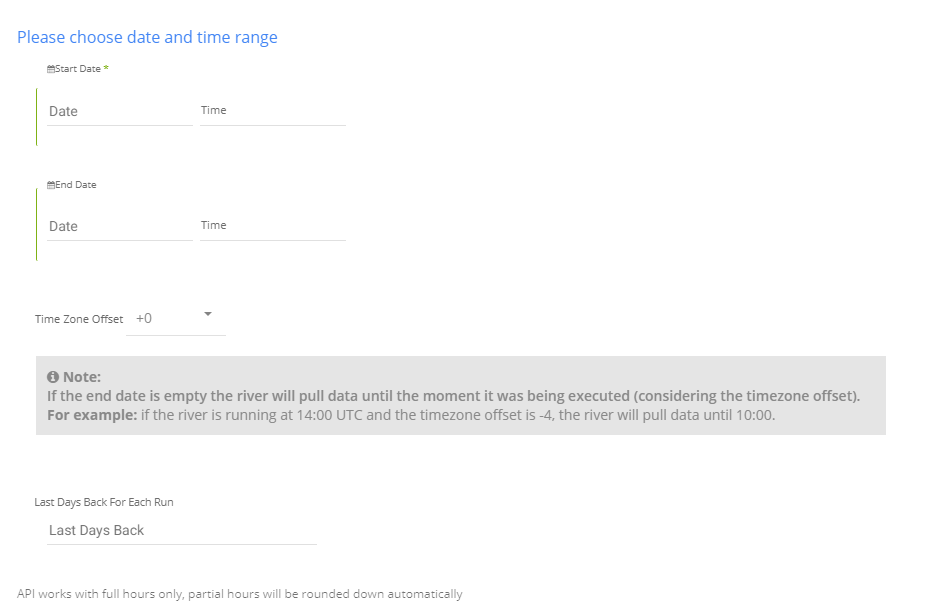 Select the type of time period of the report.
It can be a custom date range (as described in the picture above) or a defined time period shown in the pop-up list (for example Yesterday, last week etc.)
Instructions for 'Date Range' selection:
1. Select the start date and end date.
2. Leave the end date empty in order to pull data until the moment the river runs.
3. After each run of the river, the start date will be updated automatically with the end date, and the end date will be updated with the empty value. This enables the next run to pull data from the end of the previous run.
4. Days back - use this input to tell Rivery to pull data from the given number of days back before the given start date.
*The API works with full hours only, therefore partial hours will be rounded down automatically
(Optional) Set the traffic including.
The traffic including input indicates what you want to include in addition to the regular fields for the detail report.

(Optional) Set the interval chunks size

The interval chunks size is a mechanism used to adjust the amount of data retrieved from the API.
e.g. If the API call fails or takes a long time to return, you can decrease the chunk from Daily to Hourly, therefore Increasing the amount of calls but reducing the amount of data returned, and possibly allowing the API call to succeed.
Notes:
As multiple sources can be pulled from Kochava, not all attribution fields will be available for all sources. For example to find a unique Ad Id, you may want to pull from adgroup_id for Facebook and then use ad_squad_id for Snapchat. In the 'Detail Report' to find out which source you're pulling from, you can filter on the CLICK_ORIGINAL_REQUEST__ATTRIBUTION_MODULE field.
---
Was this article helpful?
---
What's Next