Working with Rivery Support
Working with Rivery Support
---
Here are the best practices related to open support cases with Rivery.
What is a Support Case:
A support case can represent a myriad of situations you' may encounter as a customer:
You found a bug in one of our products/features.
You would like a new feature considered.
You have a question about how to do something with our products/features.
You need to make some changes to your account (e.g. change owner of account)
All of these situations (and likely some we've missed) are well grounded case topics.
When to open a Case:
Now that we're alligned on what a valid support case is, let's elaborate abit on when to open one.
The subscription level matters. Presently, we offer 3 types of subscription: Starter, Professional, and Enterprise. For reference, please see subscriptions for a full definition of our subscription packages.
You should feel free to open a case for anything important to you. Support Cases are the way we communicate with each otherfor the most part, and we want to be well connected with you as a customer to ensure your success as well as our own. Therefore, if in doubt, open a case to open the discussion.
Do make sure to first review our troubleshoot documentation here.
Here's a helpful chart to help you understand what kind of response times you should expect per subscription level. More on the definition of each level in the next section.

How do I open a case?
This is easy peasy lemon squeezy, Upon the creation of your account you can simply login to your console and look for the "Support" botton on the left side-bar.
Steps to opening a case:
Log in to your Rivery console through https://console.rivery.io/
Search our Knowledge Base for any known issues.
If nothing matches your issue or you did not find relevant helpful information, click "Help" button on the left side-bar within your console, and then select 'Open Support Ticket':

Fill in the resulting form.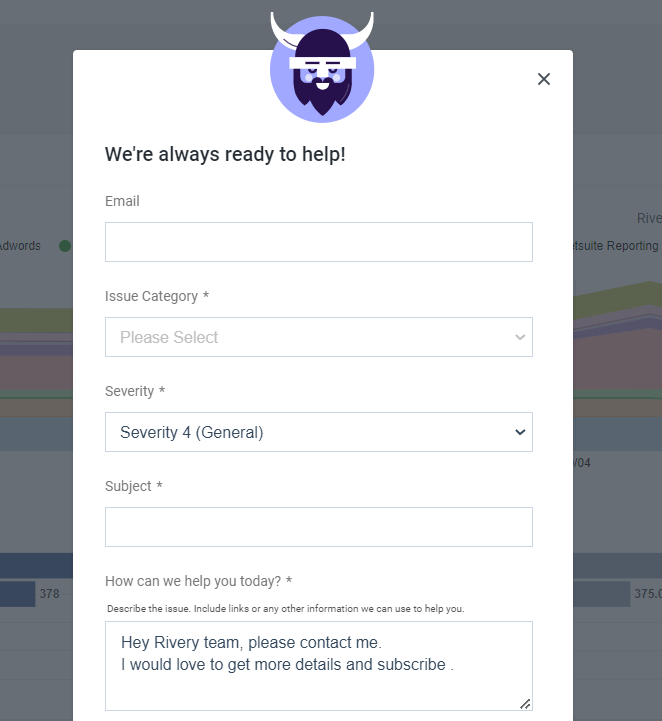 Click "Submit."

You will receive an email from our system letting you know your case was received & created. All future conversation on the topic you opened a case on can occur through email.
Severity Levels
When opening a case we request you to indicate a severity level, this level is important for our prioritization and understanding of the impact and seriousness of the reported issue. We provide 4 severity levels: Critical (1), Less Critical (2), Non Critical (3), General (4).
Note: Severity level 1-4 only apply to production levels of support.
We have a fairly common definitions for what these 3 types of severties mean:
Sev1: Critical: Production access or other Mission Critical system(s) are down and substantial loss of service. Drop everything, we need help!
Sev2: Less Criticial: Production is wounded, Major functionality is severely impaired, but still functioning in a restricted fashion. You aren't sure if it's fatal.
Sev 3: Non Critical: Production seems fine, but you recognize a potential issue or error with a non-critical pipeline or feature.
Sev 4: General: You have questions about the product, best practices, billing, usage etc.(this is usually the default).

Note

Tickets created via email will have a default severity of General (4). To create a ticket with a higher severity, create it through the Support Form in the Rivery Console (as detailed above).
I Have opened a Support Case, what happens now?
Our aim is to make sure that working with us as easy as possible, however, as with any support organization it's important as a customer to understand a little about what happens behind the scenes to make for the best experience possible.
Once you've opened your case, a lot of automation we've built kick's in to make sure we are consistently delivering high-quality support. It goes a little something like this:
All new cases are assigned directly to Rivery support engineers. The relevant Support engineer is notified of your case, so rest assured there are no robots here. Based on the situation, severity, and seriousness, our global team of support engineers, we will engage with you on your case within our committed response times.
The rest is standard technical support interactions via the case, phone, depending on which channel of support best suits.
How can I follow up on my case
Simply respond to the email receipts from our system to update with your response.
---
Was this article helpful?
---
What's Next